2001: The Weirdest Season Ever?!
While the 1997 season stands out in many Michigan fans' minds, the most vivid memories that I have of any football season come from 2001. Why? Because so much bizarre stuff happened, that's why. As a nation, we didn't need any additional stress after what happened on September 11th. I'm sure the roller-coaster of craziness that was the 2001 season didn't do much to help the emotional state of the average Michigan fan. Let's take a look back, from my point-of-view…
The Season's Over Before it's Started?
The bad news started in late March, when QB Drew Henson decided to forego his Senior season at Michigan to sign a
6-year, $17-million contract
with the New York Yankees. With virtually no experience at Quarterback, Michigan was forced to pin its hopes on Sophomore John Navarre (a player that originally started out at Northwestern as a Defensive End). I should have given up hope right then and there, but as a "true blue" Michigan fan, I chose to endure the pain. Coupled with the losses of RB Anthony Thomas, WR David Terrell, four starters on the OL (Mo Williams, Dave Brandt, Jeff Backus and future NFL All-Pro Steve Hutchinson(!)), the Offense had "uh oh" written all over it.
It's Late August! Optimism Rules!
Ranked preseason #12 by the AP and #10 by the Coaches (including one mystery first place vote!), it didn't take long to realize that Michigan was a bit overrated. In its season opener, Michigan had a ho-hum, closer-than-the-score-indicates 31-13 home win over Miami (Ohio) (and future NFL QB Ben Roethlisberger). There wasn't much to take away from that game, except that Michigan didn't seem prepared for their next game – at #15 Washington. I wasn't expecting a win, not by any stretch of the imagination. But when Michigan took a 12-6 lead into the 4th Quarter, and appeared to be driving for another score, I let it happen… I got optimistic. I started thinking about National Championship possibilities. I started thinking, "we've got OSU at home this year… we can make a run."
Then, I Stopped Thinking...
I'll let the
official press release
handle the details: "Michigan looked to increase its [12-6] lead with a 33-yard field goal by [Hayden] Epstein, but Washington… blocked the attempted kick and cornerback Roc Alexander returned it 77 yards for the touchdown and 13-12 lead. Two plays into the Wolverines' next series, [Omare] Lowe intercepted a Navarre pass off sophomore tailback Chris Perry's hands and took it 21 yards for a touchdown and 20-12 Washington lead with 8:20 remaining in the fourth quarter." It was all over but the crying. In a span of seconds (seconds!) we had gone from up 6 points, and looking to go up 9, to down 8! It was one of the strangest sequences I have ever seen. Final score: Washington 23, Michigan 18 – in a game in which our defense did not give up a touchdown.
September 11th and "The Funk"
The events of September 11th put most rational Americans into a serious funk, and it was the right call to
postpone
all college football games for one week. It was nice to see Michigan's players come out ready to play against Western Michigan, and they were much more effective on offense. If only they could have saved some of that passion for the next week, against Illinois. Playing a potential Big Ten Title contender at home early in the season, with one loss already under your belt, is usually a must-win scenario for a team like Michigan. But they sure didn't act like it. You know it was bad when the
official press release
says "Michigan's offense emerged from an early slumber." I would argue that the "offense" didn't emerge, but the trick play did. After 4 straight "3 and out" drives to start the game, Michigan used both the "throwback pass" and the "halfback toss" to take a 7-3 lead. Various reverses were also run, including one by Calvin Bell for a 28-yard TD. That put Michigan up 28-10 at halftime, and they never looked back.
Playing "Michigan Football"
Though I was too young to fully remember (and/or appreciate) many of
Bo Schembechler's
days as Michigan's coach, I would bet that he thoroughly enjoyed the next two games.
Traveling to Penn State and coming out with a 20-0 victory is very respectable, even when PSU is having a down year. Then, coming home and handling a previously-unbeaten Purdue team, 24-10, might be enough to put a smile on the old coach's face. It definitely made me happy. So happy, in fact, that I did it again… I got optimistic. I started thinking about getting back into the BCS Title chase. Hey, I wasn't the only one – check out
Brent Musburger's take
[note to self: if you ever find yourself agreeing with Brent Musburger's opinion(s) again, take a step back, and change your opinion(s)].
Don't Believe the Hype (or the Clock)
Quite possibly the craziest two Saturdays of my life took place in the same bar:
Poli-Tiki
(a.k.a. The Pour House) in Washington, DC. The saddest part of this story is that I didn't consume one drop of alcohol on these days. No, my friend, I simply watched two of the most insane Michigan Football games ever. The first was October 27, at Iowa. There were too many ridiculous plays to mention, so I'll stick with the scoring: We fell down 10-0, then blocked a punt (a Michigan rarity) for a TD. We fell down 20-7, then stormed back for a 21-20 lead. Then down, 26-21. Then up, 32-26, with 3:57 remaining in the 4th Quarter. Here's where things got crazy (for the Poli-Tiki patrons, at least). A rain storm had moved into the DC area, and began to wreak havoc on the bar's DirecTV satellite. It got so bad that (1) as the screen would freeze up, we would analyze it for open receivers, potential tacklers, etc. (2) numerous fans ran between floors, trying to find a TV that was working, and (3) one nice guy was actually smart enough (Michigan education, no doubt) and calm enough to call his parents back in Michigan and kindly give the other 60 of us a play-by-play call via his cell phone conversation. We sat in silence, with bated breath, as Iowa's last gasp fell incomplete on a 4th-and-1. Crisis averted. Game over. Michigan wins, 32-26. Years taken off of my life expectancy: Approximately 2.74. Michigan had climbed back up to #6 in both polls. The promised land was in sight…
The next Saturday will live in infamy as "Clockgate" or "the Spartan Bob game" to most, if not all, Michigan and Michigan State fans.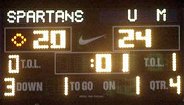 Still hurting from a 1999 loss at MSU, I was hungry for some revenge in East Lansing, and so were the Poli-Tiki Michigan faithful. No need to go over the details, because we all know what happened. A few things of note, though: (1) We counted down (6, 5, 4…), and everybody had the same reaction. When we all yelled "Zero!," we also all noticed the little "0:01" on the screen. Cussing ensued. (2) There were a few MSU fans there. As they replayed MSU's "game-winning" TD, everybody noticed that Michigan DL Shantee Orr was being held. I looked over at one MSU fan, made the "holding" gesture, and pointed. He replied, "what do you want me to do?" He was right – there was nothing to be done. (3) Of course the crowd at the game in East Lansing was going nuts. But seeing the faces of the MSU fans at Poli-Tiki, I could tell that they were not excited. Nobody wants to win like that, and it was evident. I guess years later, that is enough for me. Michigan didn't "deserve" to win that game, but guess what? Neither did MSU. Another frustrating game, and another workout for my pulmonary system.
2 More Before OSU
Similar to the post-September 11th happenings, Michigan played well (especially in the 2nd Half) against Minnesota the next week, winning 31-10. But at Wisconsin the next week, a zombie-like effort led to a low-scoring sloppy game, tied near the end of regulation. Then, perhaps as some sort of karma-ish reward, Michigan actually
got a break:
"In the bizarre ending, the Wolverines moved the ball to midfield following a missed field goal by the Badgers that kept the game tied 17-17 with 1:26 to play.
Forced to punt with under 30 seconds remaining, [Hayden] Epstein hit the ball 40 yards where it bounced sideways and hit the back of Wisconsin's Brett Bell on the 13-yard line. Junior cornerback Brandon Williams noticed the touch and ran the football into the end zone. The ball was placed at the 13-yard line because a player cannot advance a punt, and Epstein kicked the game-winning field goal on the ensuing play."
Everything was not lost. A win against one of the worst OSU teams in recent memory, and we would be headed to a BCS Bowl Game, with a Sophomore John Navarre as our QB, no less. It was all I could really ask for, given everything (and I mean everything) that had happened.
The Wheels Come Off
Despite the madness that had ensued (both on and off the field) in the previous months, I was excited to head back to Ann Arbor for the OSU game. Needless to say, I was less excited when Michigan essentially spotted OSU a 23-0 halftime lead. Ridiculous. Our second-half comeback was admirable, but wasn't enough. Sure-handed WR Marquise Walker tied his single-game record with 15 receptions, but dropped a sure touchdown that arguably cost Michigan the game. OSU gave us every chance to win the game in the 2nd half, but we had already given it away in the 1st. Final score: OSU 26, Michigan 20.
A chance at (some) redemption came when Tennessee played itself out of the BCS Title game and into the Citrus Bowl vs. Michigan with a loss to LSU in the SEC Championship game. This being the first ever meeting between the two storied programs, I was at least hoping for a good game.
There's that feeling again – "hope"… "optimism." It seemed clear to me that Michigan had given up hope in John Navarre when they opened the game with 3 straight runs into middle of Tennessee's NFL-caliber defensive line. Obviously, no first down was to be found. While I was never the biggest John Navarre fan, I would have rather *actually tried* to win the game with him at QB than basically given up. After falling down 17-0, Michigan never recovered, losing 45-17. Some fans questioned whether the team had "given up on the coaches," and they might have had a point. But after re-watching the game several times over the past few years, I question whether the coaches gave up on the players. Michigan played into Tennessee's strengths, and seemed to be surprised that Tennessee tried to exploit Michigan's weaknesses. Tennessee was the better team, no doubt, but being out-coached by Phil Fulmer still makes me ill.
Closing Up Shop
What a long, strange trip 2001 was. From Henson to Navarre… From BCS hopes to Citrus Bowl flops… While I don't necessarily remember that season with fondness, I guess I will always have a few good stories to tell. I hope you enjoyed the trip down memory lane.
Final record: 8-4 (6-2 Big Ten, 2nd place)
Statistical Leaders – 2001 Michigan Football Team
Rushing: B.J. Askew
Passing: John Navarre
Receiving: Marquise Walker
Scoring: Hayden Epstein
Interceptions: Marlin Jackson
Tackles: Larry Foote
Tackles for Loss: Larry Foote
Sacks: Dan Rumishek (seriously)